Active Threat Integrated Response Course (ATIRC)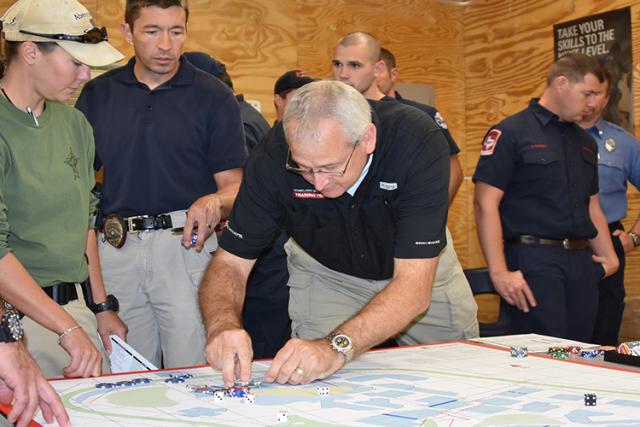 Active Threat Integrated Response Course (ATIRC)

Time: (24 hours/3 days)
Class Size: 40 students - 25 Law Enforcement students and 15 Fire/EMS students per class
Prerequisite: Participants must be state-certified law enforcement, fire, or EMS providers. EMS providers should be EMT-B certified (preferably EMT-I or EMT-P). Participants should have completed IS-100, IS-300, IS-400 and IS-700.
Recommended Equipment: Participants may wear their agency issued or approved uniform to class each session. This course is a hands-on training course and participants are encouraged to wear appropriate clothing for conducting practical exercises and scenarios. Fire and EMS personnel do not need to bring bunker gear. Department or agency issued or personal weapons, both primary and secondary, are not required for this course. Officers are responsible for properly securing their weapons during the training course and should follow agency policy. A lockable storage container will be available on-site to secure handguns during the practical exercise portion of the course. Handguns must remain in a secure holster to be stored in the provided lockable container. Ammunition, weapon magazines, batons, electronic control devices, knives, and pepper spray are not allowed in the training area at any time during the course.

Description: The Active Threat Integrated Response Course (ATIRC) is a 24-hour performance level direct delivery course designed to improve integration between law enforcement, fire, and emergency medical services (EMS) in active shooter events. The course provides law enforcement officers with key medical skills based on tactical emergency casualty care (TECC) guidelines, which can be used at the point of injury (POI) to increase survivability of victims. The course also provides a model framework for law enforcement, fire, and EMS to integrate responses during an active shooter event through the rescue task force concept using the Active Shooter Incident Management Checklist. This course has been designed to improve the safety and survivability of victims of active shooter and mass shooting events and increase the effectiveness, coordination, and resource integration between law enforcement, fire, and EMS when responding to these events.

If you are interested in hosting this class, please see the requirements listed below then fill out a Hosting Request Form.

Hosting Requirements:

1) The primary host agency must be a state or local agency.

2) Each class is required to be filled with sworn state and local law enforcement officers and Fire/EMS personnel from multiple agencies. In the event that federal or military personnel are inquiring about registering, and you have given priority to state/local officers, you are allowed up to 3 slots to approve for federal/military. These federal/military students must not take seats from state or local officers.

3) The host agency is required to provide the following facilities, classroom, and logistical needs:
Building or structure, preferably a school or large dedicated law enforcement or fire training facility. The course will involve the use of both the interior portion of the building as well as exterior portions.

With electricity, functional lighting, climate control, running water, and functioning restroom facilities

Minimum of two long hallways, preferably at least 8' wide, with multiple rooms for teaching tactics, rescue task force integration, and medical stations

Capability of using exterior areas (parking lot and common areas) of the facility

Preferably two-story or multiple wing structure

Access to the facility the day prior to the first class for classroom set up

Classroom capable of seating 50 personnel with ability for note taking

Power outlets to set up A/V equipment

Projector screen or white wall

A location to receive and secure equipment in close proximity to the class

10 containers of training materials (from 25"x20"x14" to 34"x25"x24" weighing up to 140 pounds per case)

Water coolers or bottled water for participants on day 3 practical exercises

2 ambulance vehicles for day 3 practical exercises

2 local agency dispatch personnel (one police and one fire and EMS if not combined operators) for day 3 practical exercises

10 – 15 role players for day 3 practical exercises

Note: Role players should be instructed to wear old clothing suitable for getting dirty and possibly wet. Moulage and other simulated injuries, including simulated wet blood, will be used on the role players.

Signs that can be placed at the training venue indicating the area is being used for law enforcement, fire and EMS training (if necessary and dependent upon the training location)




4) The host agency will be responsible for registration. We will post the class to our website under 'Upcoming Courses', and list the POC's contact information for registration. Under special circumstances, we can remove the class from the website at the agency's request.

5) The host agency is responsible for the advertisement of the class. We will send you the course flyer for distribution.

6) ALERRT will issue certificates for all classes and, in Texas, we will post hours to TCOLE.

7) In the event a class can't be filled ALERRT reserves the option to open registration nationwide or cancel the class.


For questions specific to ATIRC courses, please contact Landon Willhoite at willhoite@alerrt.org.